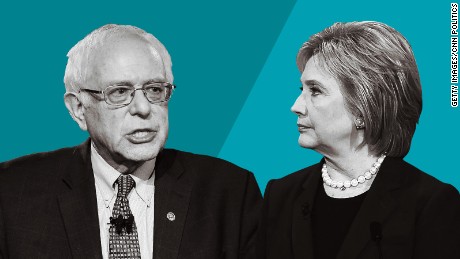 New York City (CNN)Hillary Clinton and Bernie Sanders squared off Thursday night in the most heated and dramatic Democratic presidential debate of the 2016 cycle. The rivals battled it out at a two-hour prime-time event on CNN that exposed fundamental differences in their candidacies and campaign styles.
Coming just five days ahead of the crucial New York contest Tuesday, the debate featured combative exchanges on issues including gun control, Israel and Wall Street reform. These policy disagreements were fueled by a broader clash: Sanders cast doubt on Clinton's judgment and credibility, while Clinton insisted that the Vermont senator lacked experience and pragmatism.
As the two delivered harsh attacks throughout the night — on multiple occasions inviting intervention from the moderators — a rowdy crowd at the Brooklyn Navy Yards stoked the tension, loudly cheering and hissing to take sides.
In her opening statement, Clinton began with an oblique attack on the GOP, defending the "New York values" that Republican presidential candidate Ted Cruz, a Texas senator, has used as a pejorative.
Speaking of her days representing the state in the Senate, she said, "We worked hard to really keep New York values at the center of what we are and what we do together."
The Democratic race so far has proven Sanders to be an unexpectedly durable candidate whose popularity among liberals and younger voters has helped to expose the vulnerabilities in Clinton's candidacy.
The New York race comes after a string of victories for Sanders, including Wyoming, Wisconsin, Idaho and Utah. If Sanders were to eke out a win in New York, it would deal a serious blow to Clinton and strengthen the narrative that it is taking Clinton much longer than initially expected to clinch her party's nomination.
source
http://allofbeer.com/cnn-debate-new-york-fight-night-for-clinton-and-sanders/